Recipient of the Education Awards 2023 (Best Education Outreach category), the Explorers Education Programme is on a mission to deliver ocean literacy to primary schools.
Funded by the Marine Institute, Ireland's State agency for marine research and technology development and innovation, the programme engages with primary schools, teachers, children and the education network, creating marine leaders and ocean champions in Ireland.
Explorers increase the awareness and understanding of Ireland's marine biodiversity, the environment, as well as the opportunities and social benefits of ocean wealth.
---
Inspiring
Children and educators by promoting our marine and maritime identity and heritage, as well as making informed and responsible decisions regarding the ocean and its resources.
Coordinating
Professional development training and workshops for teachers, trainee teachers and outreach teams, to develop their marine literacy skills in line with the national curriculum.
Developing
Cross curricular lesson plans, resources and activities to engage pupils both in the classroom and on the seashore.
Promoting
Ocean literacy and marine outreach activities with local communities, educators and influencers through events and media, so as to create dialogue and engagement about our ocean.
Our Role
---
The Camden Education Trust manages the strategic development of the Explorers Education Programme.
The programme is also supported by a wide network of stakeholders including marine scientists and researchers at the Marine Institute, the Explorers outreach teams around the coast of Ireland, third level educators and marine experts, enthusiasts from industry, as well as key stakeholders in the wider community.
Headline News…
---
May 2nd, 2023: The Marine Institute Explorers Education Programme has topped the 'Best Education Outreach Award' category of the Education Awards 2023.
Congratulating all those involved with the programme, Dr Paul Connolly, Marine Institute CEO, said the win was truly justified: "We are delighted that the Explorers Programme's outreach module Healthy Ocean Project & Ocean Champions Award has been recognised for its excellence in promoting ocean literacy at primary-school level. This award recognises the quality of the programme and the work of those delivering it throughout the country".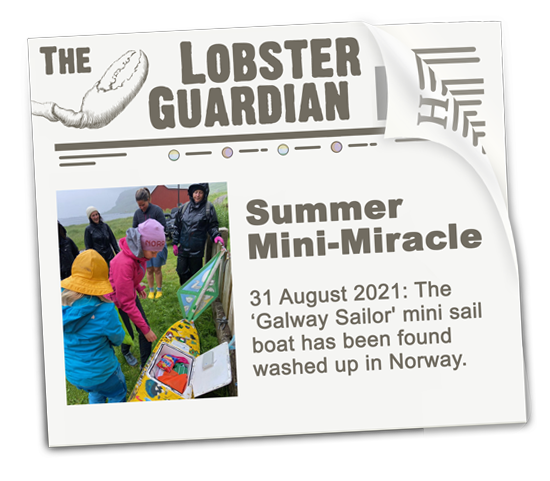 Incredible, but true. After travelling over 3,000 km from Irish waters in the Atlantic, the 'Seoltóir Na Gaillimhe' was recently found stranded on the Bunes Beach above the Arctic Circle in the Lofoten Islands, Norway. The Bjørnsen family and friends who made the discovery reportedly enjoyed the tasty treasure they found inside.